IN THE BOX
Sales Package
Main Unit, Lens Cap: E-67 II
GENERAL
Brand
Canon
Model
EF-S10-18mm f/4.5-5.6 IS STM
Type
Zoom Lens
MODEL
Angle of View (Diagonal)
107 Degree 30 Inches - 74 Degree 20 Inches
Angle of View (Horizontal)
97 Degree 10 Inches - 64 Degree 30 Inches
Angle of View (Vertical)
74 Degree 10 Inches- 45 Degree 30 Inches
Closest Focusing Distance
0.22 m
Construction (groups elements)
11-14
Diameter x Length (Maximum)
74.6 x 72 mm
Drive System
Lead screw and rack system driven by stepping motor
Filter Size
67 mm
Maximum Magnification
0.15x
Minimum Aperture
27 - 29
No. of Diaphragm Blades
7
ADDITIONAL FEATURES
Features
Capture dramatic landscapes and architectural shots with this EF-S ultra-wide angle zoom; Compact, lightweight ultra-wide angle zoom lens; Sharp images with 4-stop Image Stabiliser; STM (Stepping Motor Technology) for recording high quality movies; Aspherical and UD lens elements, which correct any spherical and chromatic aberrations; Take control with manual focus ring; Superb image quality thanks to Super Spectra Coating
PHYSICAL SPECIFICATION
Weight
240 g
The Canon Zoom EF-S10-18mm f/4.5-5.6 IS STM EF Lens is one of the best DSLR camera lenses that offers amazing quality and sharpness when capturing images. It comes with a wide variety of features to help you shoot great images with your DSLR very quickly and efficiently thanks to the great sensors and CPU that is built into the lens. All your memories come can now come alive using the lens for your Canon cameras. It also comes with vibration reduction features allowing you to get professional images in no time at all.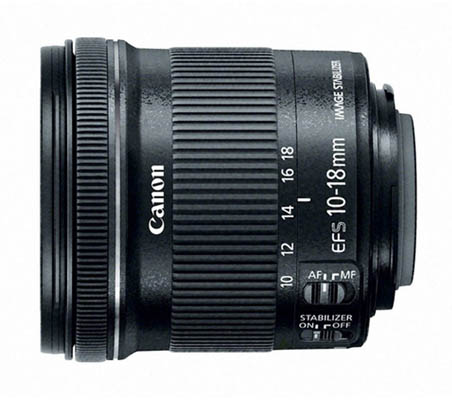 The Canon EF-S10 Lens is meant for cameras that require USM format lenses and they come with its own CPU and an operational motor for controlling the quality of images that you shoot.
The aperture has a range goes from F/4.5-5.6 which is perfect for long distance shooting and you will be able to get really great portrait images and close up and medium range shots out of the lens making it the perfect tool for people who want the ability to shoot from both close distances and medium range. Nature and portrait shooting is the speciality of the lens and the low aperture makes it really great for medium range shooting.
The Canon Zoom EF-S10-18mm has a vibration prevention mechanism to help you get the best possible images without any signs of blurring. You will be able to use your hands for shooting instead of having to rely on tripods and still manage to get consistently stable images without any difficulties. It also allows you to capture HD videos that are void of any kind of blurring of any kind at all.
The Canon EF-S10 lens allows quick focusing with your camera so you are able to capture everything you want right in time without missing out on those great shots. It comes with internal focusing features and does not rely on the camera alone allowing faster focus times and better quality images out of your DSLR. The image stabilization motor and the OIS mechanisms are just great for shooting images and videos.
The lens is compatible with all APS-C supported Canon cameras making them it a really great lens for capturing even better images. The professional quality lens offers great photos and you will be able to take professional quality images using the right combination of these top of the line DSLR cameras and lenses available at the online store Snapdeal.
Related Posts